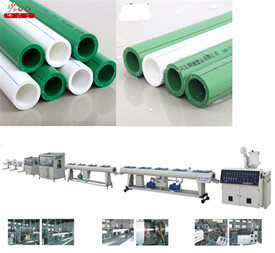 PPR Pipe Extrusion Line
Model

Single Screw Extruder
Description
Extruder
Single screw extruder is designed for high pressure PP-R materials,ensure good melting and extrusion.
DIE HEAD
Extrusion head with spiral structure, make sure the melt inside distributed evenly so as to achieve best plasticization.
Calibrator design with water ring which is easy to clean, to achieve better cooling and then fast forming.
The first chamber of the vacuum tank has pre-heating options to guarantee pipe quality.
| | | | | | | |
| --- | --- | --- | --- | --- | --- | --- |
| Model | Pipe Diameter | Main Extruder | | | | |
| SYPPR-63 | Ø16-63mm | SJ-65/33 | 190 | 25 | 155 | 50 |
| SYPPR-160 | Ø32-160mm | SJ-75/33 | 250 | 7.5 | 225 | 53 |